In 1882, the anti-immigration feeling in Americans was formalized in the law with the passage of the Chinese Exclusion Act, which restricted Chinese laborers from entering the United States. After being applied to most other Asian countries soon after, these nativist sentiments were redirected towards the new wave of southern and eastern European immigrants, who started coming over in mass quantities by the early 1890s. With these immigrants came infectious diseases, namely cholera, trachoma, and tuberculosis, which only increased these anti-immigration feelings. Chairman of the Senate Committee on Immigration W.E. Chandler wrote:
The interest and anxiety manifested during the last few years by the American people concerning the enormous inroads of inferior immigrants have been supplemented by the outbreak of cholera in Europe, by its presence in the harbor of New York, and its advent into the city itself.[1]
When talking about the World's Fair in Chicago and its importance, Chandler stressed how imperative it was for Chicago to remain cholera-free. He gave only two options, "stay at home or flee to the mountains."[2] This suggests that the mountains, such as the White Mountains, were a known salvation for those seeking a source of clean air away from disease.
Trachoma was "certified as a dangerous, contagious disease" in 1898. That same year, the disease was grounds for 8.8% of all deportations.[3] Although also grounds for removal from the United States, tuberculosis seemed to carry less of a penalty, as most immigrants found to have this disease were "quarantined at Ellis Island until healed and a smaller minority were simply refused entry.[4]
Bethlehem and the rest of the White Mountains had been a noted resort for hay-fever sufferers for more than a decade, since the establishment of the United States Hay Fever Association in 1874. The clean air had the ability to make an unbreathable few weeks of hay-fever summer into one that was much more enjoyable for those who could afford it:
To be a hay-feverist in the best and highest sense of the word and entitlement to membership in the association…implies that the necessary intellectual person is likewise possessed of a sufficiency of the goods of this world to enable him or her to spend six weeks at least of every Summer among the White Mountains.[5]
Unfortunately, those who were not financially well-endowed were not able to live this heavenly life, and were stuck in their respective sickly areas.
As suggested by Gregg Mitman, hay-fever "had become the pride of America's leisure class and the base of a substantial tourist economy that catered to a culture of escape."[6] Interestingly enough, only 1/4 of Bethlehem's summertime residents were hay-fever sufferers.[7] While the reasoning for the 3/4's sojourn to Bethlehem was not specified, one can assume that the wealthy who were not afflicted with hay-fever would not pass up a chance to flee for fresh air and freedom from the diseases at home. It is also important to note that New York and Massachusetts were the two main suppliers of the town's tourists, both of which would have been home to many of those sick immigrants.
In the end, these wealthy summertime residents contributed greatly to the building of Bethlehem, New Hampshire. Through their social standing and illness, or lack thereof, these wealthy men were able to have a great influence on the town, such as coaxing hotels to stay open longer than they would otherwise. They were "a powerful force in town development and land use."[8]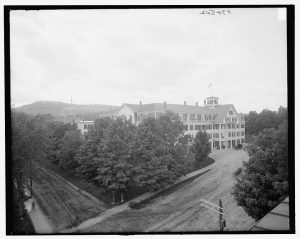 One may stop and question "why Bethlehem?" Surely there must have been other options, such as the Adirondack Mountains, which would seem more convenient for those from New York. Described as a "Mecca of immunity" by the New York Times in 1916, Bethlehem was the destination for "most of those who live along the upper Atlantic seaboard and adjoining states."[9]
In 1872, Morrill Wyman published Autumnal Catarrh, a book studying hay-fever and where it seemed to strike. He included a map of New Hampshire, and, according to it, Bethlehem and northeast portions  of Franconia and the Fraconia Notch were safe from hay-fever and its symptoms.[10] Meanwhile, according to W.C. Hollopeter, Wyman considered "Canada and the Adirondack Mountains, the Appalachian Range, and the elevated plateau throughout New York…almost exempt from hay-fever."[11] The closest Bethlehem came to being non-exempt was in 1881, when the U.S. Hay Fever Association nearly marked the area with a star as "only partially exempt" from the allergens that caused hay-fever.[12] In 1876, George Beard ranked Bethlehem as the top resort, while number two was the Adirondack Mountains.[13] While how much weight this opinion carried is unknown, it was published in a medical journal, which might have  influenced medical practitioners' ideas, whose influence on patients' treatments could send them to Bethlehem over the Adirondack Mountains.
The White Mountains developed a tourist industry before the Civil War. In the early 1820s, Ethan Crawford started escorting groups of educated and wealthy city-dwellers to the summit of Mount Washington. Though they did not come for allergy relief, it did set the foundation for those who would flock to the region during the summers for years to come.[14]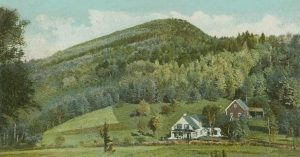 With a reach that stretched to Chicago, Bethlehem gave relief to more than those from nearby states. The town attracted even those who did not have that affliction. Whether directly or indirectly, Bethlehem was built with help from the fear of disease.
Ironically, in a public health report from 1920 by William Scheppegrell, Bethlehem was not listed as a hay-fever resort, although the Adirondack Mountains and other places in New York were.[15] Described by Mitman as "America's most luxurious and popular hay fever resort,"[16] one may wonder if Scheppegrell had just not bothered listing the White Mountains due to its popularity.
Matthew Roy, 2018
---
[1] W.E. Chandler, "Shall Immigration be Suspended?" The North American Review 156, no. 434 (1893): 2.
[2] Chandler, 3.
[3] Elizabeth Yew, "Medical Inspection of Immigrants at Ellis Island, 1891-1924," Bulletin of the New York Academy of Medicine 56, no. 5 (1980): 494.
[4] Daniel Bender, "'A Hero… for the Weak': Work, Consumption, and the Enfeebled Jewish Worker, 1881-1924," International Labor and Working-Class History, no. 56 (1999): 5.
[5] "The Recent Hay-Fever Show," New York Times, September 16, 1890.
[6] Gregg Mitman, "Hay Fever Holiday: Health, Leisure, and Place in Gilded-Age America," Bulletin of the History of Medicine 77, no. 3 (2003): 601-602.
[7] Mitman, 621.
[8] Mitman, 623.
[9] "Hay Fever Victims Hear New Remedies," New York Times, September 1, 1916.
[10] Morrill Wyman, Autumnal Catarrh (Hay Fever), (New York: Hurd and Houghton, 1872), ii.
[11] W.C. Hollopeter, Hay-Fever: Its Prevention and Cure, (New York: Funk and Wagnalls Company, 1916), 115.
[12] Mitman, 624.
[13] George Beard, "New Facts and Suggestions Relating to Hay Fever," Medical Record 11, (1876): 650-651.
[14] Mitman, 610.
[15] William Scheppegrell, "The Seasons, Causes, and Geographical Distribution of Hay Fever and Hay-Fever Resorts in the United States," Public Health Reports 35, no. 39 (1920): 2255.
[16] Mitman, 609.